National Real Estate Overview
Note: Data below from March, 2018 is the most recent from the National Association of Realtors.
According to the National Association of Realtors® (NAR), sales of existing homes in March grew for a second straight month, but low inventory levels and affordability pressures held sales activity lower than a year ago.

Total existing-home sales (transactions for single-family homes, townhomes, condominiums and co-ops) rose 1.1% to 5.60 million in March from 5.54 million in February. Still, sales remain 1.2% below a year ago.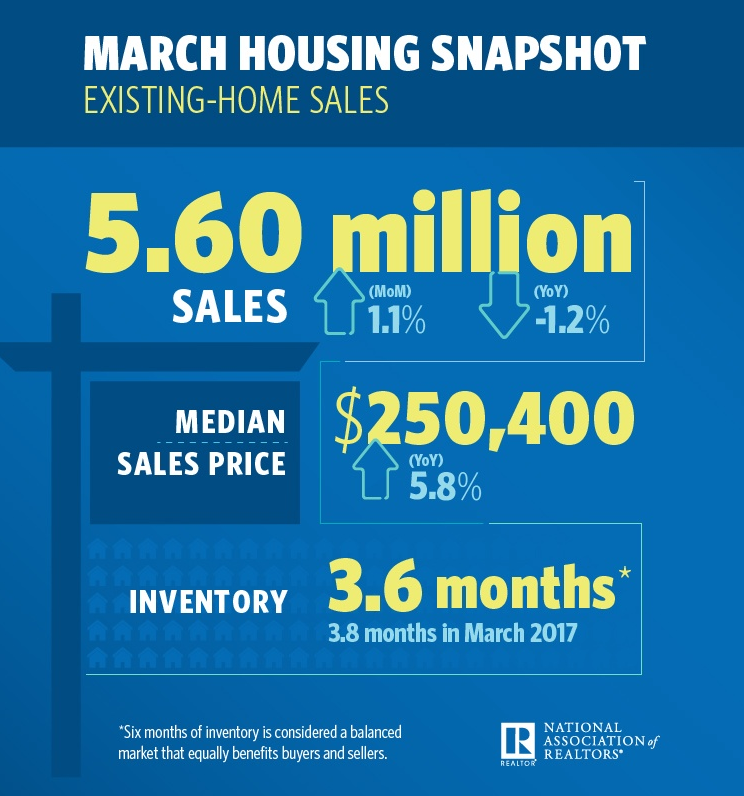 NAR's chief economist, Lawrence Yun, indicated that closings in March inched forward despite challenging market conditions in most of the nation. "Robust gains last month in the Northeast and Midwest – a reversal from the weather-impacted declines seen in February – helped overall sales activity rise to its strongest pace since last November at 5.72 million," he said. Yun added, "The unwelcoming news is that while the healthy economy is generating sustained interest in buying a home this spring, sales are lagging year ago levels because supply is woefully low and home prices keep climbing above what some would-be buyers can afford."

Nationwide, March's median existing-home price (all housing types) was $250,400, up 5.8% from March 2017 ($236,600). This price increase represents 73 consecutive months of gains.

Total U.S. housing inventory at the end of March rose 5.7% to 1.67 million existing homes available for sale, but remains 7.2% lower than a year ago (1.80 million) and has dropped year-over-year for 34 straight months. Nationally, unsold inventory sits at a 3.6-month supply at the current sales pace (vs. 3.8 months a year ago).

Freddie Mac data shows the average commitment rate for a 30-year, conventional, fixed-rate mortgage increased for a sixth consecutive month to 4.44% in March from 4.33% in February. For all of 2017, the average commitment rate was 3.99%.
Prepare Your Home to Sell with Curb Appeal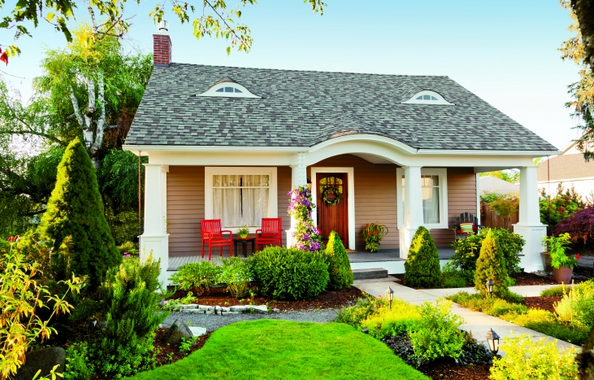 It's important for sellers to do what they can to get their home to stand out. Here are five quick tips to generate some excitement for your home in today's market.
Use Paint: A new coat of paint can go a long way to make your home look up to date. Neutral colors work best because they appeal to the most people.
Mow the Lawn: Take the time to mow the lawn and clean the yard. Rake leaves and grass and put away any tools that may be lying around. Don't turn buyers off with a messy yard. If they like what they see on the outside, you'll improve your chances of getting them to look inside.
Plant Flowers: Seasonal or perennials can bring a splash of color to your home and brighten the view from the street. Flowers throughout the house will please the senses and make your house feel like a home.
Spruce Up Your Walkway: Dressing up your walkway with bricks or paving stones will lead people to your front door. Inexpensive solar lighting can further enhance your entry.
Window Treatments: Keep your home from looking plain or boring with some decorative shutters. Windows are very important to the overall appeal of your home. Add planter boxes underneath for an immediate improvement that doesn't cost a lot of money!
By following these tips, you will be able to capture the hearts and minds of today's buyers, as well as improve your chances for a quick sale at the best price possible.
When you are ready, contact me today for a personal market value analysis of your home. No hassles or obligation - just honest advice on how to get top dollar for your home!
Prepare Your Home for Sale on the Inside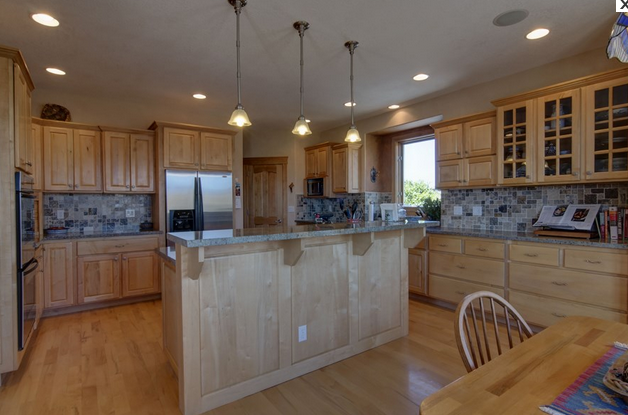 When preparing your home for sale, a number of simple cosmetic changes often provide the biggest return on investment. Here are three tips to upgrade your house without breaking the bank:
Bring in the light. The right light creates the right mood. Adding lights to dark rooms can make your home feel warm and inviting. Bring outdoor light inside by opening curtains and installing economical sun tubes.
Create Space. Many of today's buyers are looking for open rooms. Consider removing unwanted walls to make your home feel more spacious. Buyers will often pay a premium to get a bit of extra room.
Replace Flooring. Get rid of that old carpet in the den and replace it with today's newer hardwoods and laminates. You don't have to spend a lot to make a big impression!
These simple tips can help you sell your home and take advantage of our today's market. Please contact us if you have any questions about selling your home. We are here to help!